Widely used in the chemical and process industries, constant level oilers maintain a constant fluid level at all times. Available with BSP or NPT thread. Plastic or glass reservoirs with capacities of 85 cc to 500 cc.
We offer different types of constant level oilers made of stainless steel or zinc plated steel.
Additionally we have developed an opto-electronic sensor to detect a low level within the system.
Liquid level gauges, sump bottles, and view ports from Mertens GmbH allow fast and readable visual inspection.
Liquid level Gauges provide easy viewing in many industrial applications. They are ideal for bearings, transformers, and many other non-pressure applications. Stainless Steel construction and glass tubes provide long life.
Mertens Sump Bottles are used as collection chambers on bearing housings and other oil sump applications. They collect water and contaminants, and have a drain plug for easy inspection and removal of fluids.
Viewports can be used to monitor oil levels within a sump housing and provide visual inspection of lubricant condition.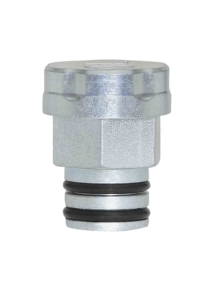 Conditioning of the Lubrication System
Oil contamination control is key to maintaining the lubricating properties of your oil. Once water has entered the lubricant it can exist in the form of dissolved moisture, emulsification, or free water. Water damages your oil and subsequently the machine surfaces the oil is designed to protect.
Filtration systems and filter-carts will remove contaminants from your oil.
Desiccant breathers remove moisture and prevent moisture from entering the oil, the root cause of premature damage to oil and acceleration of wear in components.
The filtration and desiccant products offered by Mertens GmbH are of top quality, and protect equipment and oils from infiltration of contamination.
Please also have a look at our own series of Breather – Vent Plugs made of Stainless Steel. They are used to relieve pressure or vacuum on bearing housing, gear boxes, reservoirs, or any application where venting is necessary.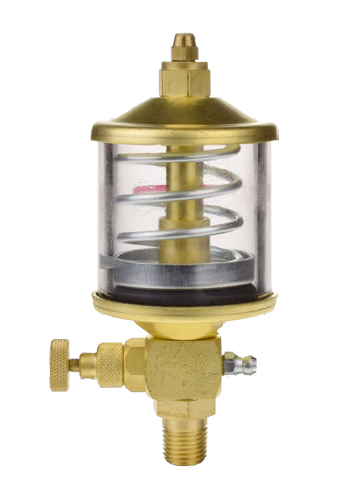 Grease Lubrication Components
Grease lubrication of moving parts is critical to protection of wear metals when oil is not thick enough. Grease also acts as a contamination barrier. There are several methods to apply grease to an application point.
Single-point lubricators and multi-point lubrication systems work together to keep bearings and other moving parts lubricated properly.
Mechanical grease dispensers are highly economical and offer worry free operation.
Electro-chemical grease dispensers are designed to be reliable and precise, cutting lubrication costs by reducing the overall usage and consumption of grease in systems. This is done by applying only the necessary recommended amount of lubricant. These systems are inexpensive and actually pay for themselves when compared to manual greasing.
Electro-mechanical lubrication units provide a precise amount of grease to critical components. Mechanical grease dispensers operate with higher pressure than electro-chemical allowing you to provide lubrication to multiple points in a central type system using a distribution block. Electro-mechanical dispensers are refillable with one of many grease cartridges pre-loaded with various types of grease via our convenient service packs . These come in 125cc and 250cc applications.
Note: We provide a wide range of adapters, mounting brackets, tubing, and distribution blocks for remote and multi-point installations.