"Oil-Watch" with plastic reservoir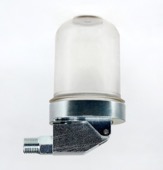 The very robust design guarantees reliability and long life even under toughest operating conditions.
Features:
Available from stainless steel 1.4404 (316L) or mild steel zinc plated
Solid steel, no zinc die cast or other coloured metal
2-piece design, no braising and/or welding
Covered venting (IP 44) resists spray water and dust
Wide opening (170°) for easy filling
Reservoir made of PA6T ( T max 80° C)
Wide range of materials for gaskets
Plastic Reservoir

Glass Reservoir

Applicability:
Wherever a fluid is to be kept at a certain level. Most popular use is for lubricating bearings. However, it has proven, too, as a reservoir for quenching mechanical seals and other applications. The combination of stainless steel with PTFE gaskets allows even aggressive fluids to be used.
Remark:
The plastic reservoir is interchangeable with the one from glass. Details see Oil-Watch Type F.

Gaskets: Standard is NBR
If other materials are used add appropriate suffix to the Model No :
V = FKM (i.e. Viton®)
T = PTFE (i.e. Teflon®)
X = SBR (Neoprene)
Example: Model-No FP23020 – T
Oil-Watch Stainless Steel 1.4404 with a 1/4" NPT Thread, 120 ml plastic
Reservoir and PTFE gaskets
Please note also our other innovative products from stainless steel
i.e. level gauges, breather screws and plugs, reservoirs